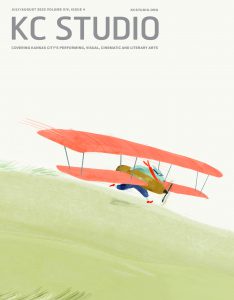 The Challenge
KC Studio magazine's mission has grown exponentially since its inception due to a sharp decline in arts journalism nationwide, particularly in newspapers. The importance of such coverage was highlighted in a recent Wallace Foundation initiative granting $52 million aimed at audience growth for 26 arts organizations in other parts of the country: "Experienced journalists are being squeezed out…this gap needs to be filled or the transmission of arts news is likely to weaken demand for the arts." President of the Wallace Foundation, Will Miller, said the grants were intended to help institutions reach more people at a time when "attracting and engaging new audiences is challenging for arts organizations because, even as the number of arts groups has grown, national rates of participation in the arts have declined, arts education has waned, and competition for ways to spend leisure time has increased." (The New York Times)
Evolution of KC Studio
KC Studio's first bimonthly edition premiered May, 2008 and the publication has gone through many changes, while our mission has remained audience building on behalf of performing, visual, cinematic and literary arts, large and small, in the metropolitan region. Since its inception, KC Studio has covered over 2,200 organizations or independent artists with feature articles. Consistent with our mission to form on-going partnerships, KC Studio and KCPT Arts Upload have collaborated with curated features in the magazine, on television and Flatland in 2016.
The successful 3 year promotion of six arts organizations called performARTS provided an experienced base for KC Studio's formation of a new partnership in January, 2013. The Arts Consortium was formed of arts organizations, to which two pages of each magazine edition are dedicated. Members tell their own story, with full editorial support, in each edition of the magazine, as well as on social media; and they benefit from the cross-marketing effect of KC Studio's mailing list of 10,000+ homes of top donors, prospects and regular attendees provided by the Arts Consortium. The current members of the Arts Consortium are: American Jazz Museum, Harriman – Jewell Series, Kansas City Public Library, Kauffman Center for the Performing Arts, Midwest Trust Center at JCCC, The Nelson-Atkins Museum of Art, Nerman Museum of Contempory Art, Park University International Center for Music, Powell Gardens and Theater League. KC Studio continues to form partnerships with the following Emerging Arts Partners organizations: Avila University, Heartland Men's Chorus, Jewish Community Center, Kansas City Actors Theatre, Kansas City Friends of Chamber Music, Kansas City Jazz Orchestra, Metropolitan Ensemble Theatre and Mid-Continent Library.
KC Studio has also grown the Arts Partners partnership provide a one-page feature in multiple editions. The organizational clients are: Albrecht-Kemper Museum of Art, Avila University, The Friends of Chamber Music, Heartland Men's Chorus, Jewish Community Center of Greater Kansas City, Johnson County Library Foundation, Kansas City Actors Theatre, Kansas City Jazz Orchestra, Kansas City Museum, Kansas City Wind Symphony, Linda Hall Library, Metropolitan Ensemble Theatre, Mid-Continent Public Library, National WWI Museum and Memorial, Powell Gardens, Truman Library Institute and the Youth Symphony of Kansas City.
KC Studio has also created Community Arts Partners for organizations to tell their stories from time-to-time throughout the year. They are Alcott Arts Center, Allied Arts Council of St. Joseph, American Guild of Organists, Bach Aria Soloists, Brush Creek Art Walk, Folly Theater, Gladstone Summertime Bluesfest, Greater Kansas City Japan Festival, Heart of America Japan Society, Johnson County Library Foundation, Kansas City Actors Theatre, Kansas City MeltingPot, Kansas City Artists Coalition, Kansas City Wind Symphony, Lee's Summit Symphony, Midwest Chamber Ensemble, The Whole Person, Summerfest Concerts, Synergy Services and UMB Bank.
The year 2015 brought great opportunity for KC Studio with the hiring of Alice Thorson, art critic for The Kansas City Star for 22 years, as the magazine's editor. Over the past seven years, Thorson has heightened KC Studio's expertise by consolidating a roster of respected critical voices, including Libby Hanssen, (classical music and dance), Robert Butler (film), Elisabeth Kirsch (visual arts) and Robert Trussell (theater). She has also introduced specialist columns by Julius A. Karash (arts and business) and Susan Schmelzer (arts policy). Among the other improvements Thorson include the hiring of Jim Barcus as KC Studio's staff photographer.
Support for the Arts Engagement Foundation of Kansas City will allow this growth to continue, while maintaining uncompromised editorial integrity.
To learn more about KC Studio, read articles and more, visit kcstudio.org.